About Me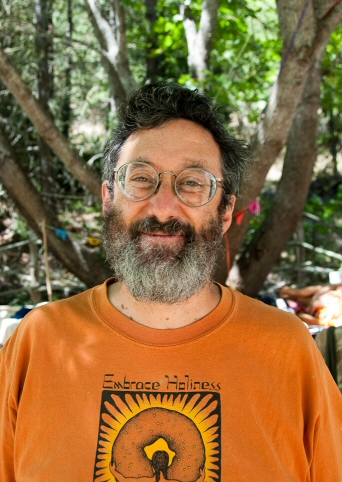 I was born in 1958 in west L.A., California. When I was five, my family moved to Albuquerque, New Mexico. After high school, I enrolled in college at The Evergreen State College in Olympia, Washington - an absolutely wonderful public alternative to the conventional college routine.
Since as far back as I can remember, I have been passionate about social change, and have devoted most of my adult life to this important work. In the 1970's, 80's and early 90's, I worked on numerous issues including nuclear power, nuclear disarmament, ancient forest protection, bioregionalism, Native sovereignty, and local economic development.
From 1977 to 1979, I led more than a dozen nonviolent direct action trainings for residents of Olympia, Washington, to help our community play a significant role in the larger effort to stop the opening of the Trident Nuclear Submarine Base in Bangor, Washington. I was arrested there three times for civil disobedience actions, but never convicted.
For three years beginning in 1982, I lived in rural Scotland, and led dozens of "Despair and Personal Power in the Nuclear Age" workshops across Britain, Holland, and France. I also founded an organization there to continue this work after I returned home: Interhelp-UK. My primary teachers were Joanna Macy and Chellis Glendinning. I still lead an updated version of these workshops. It was also while living there that I conceptualized and led my "Active Listening for Activists" workshop. (See "Workshops and Talks" in the menu on the left.)
From 1990 to 1995, I lived in a yurt near Tofino in the rainforests of Clayoquot Sound on the west coast of Vancouver Island in western Canada, and worked on and off for Friends of Clayoquot Sound. In 1994, I discovered the pioneering work of Richard Grossman and the Program on Corporations, Law and Democracy (POCLAD) which he co-directed, and which fundamentally transformed my social change work. Until then, I had seen nothing wrong with focusing on numerous single issues. After my transformation, I realized that almost every issue I had ever worked on was a mere symptom of corporate rule.
In 1995, shortly after moving to Humboldt County, California, I founded Democracy Unlimited of Humboldt County (DUHC), to begin to try to model a new way of working on single issues like clearcut logging, big box stores, the weakening of organic food standards, etc. In 1998, DUHC launched Citizens Concerned About Corporations, which I co-directed, and which developed and won a ballot initiative in Arcata, CA, titled "Measure F: The Arcata Advisory Initiative on Democracy and Corporations". The Initiative called on the Arcata City Council to host two town-hall meetings on the topic: "Can we have democracy when large corporations wield so much power and wealth under law?" About 4% of Arcata registered voters attended the meetings. The City Council then created the "City of Arcata Committee on Democracy and Corporations", which continues to meet once a month. It is the first committee of its kind in US history, and works to "ensure democratic control over corporations conducting business within the city..." I served on the Committee from 2000 to 2007, and was its chair for a portion of that time.
As director of Democracy Unlimited, I also led dozens of "First Steps in Dismantling Corporate Rule" workshops across the U.S., which I had conceptualized after attending numerous POCLAD weekends on "Rethinking the Corporation, Rethinking Democracy".
Also in 1995, I launched a social change oriented full-service online bookstore called 100Fires Books or 100fires.com, which operates out of my home. It's not a storefront, though people are welcome to drop by and peruse the in-stock titles.
In 2003, exhausted from 27 years of social change overwork and underpay, I passed the Democracy Unlimited organizational torch to a very impressive young organizer named Kaitlin Sopoci-Belknap from Santa Fe, who rapidly brought DUHC to a higher level of professionalism and community involvement. Kaitlin and her steering committee ultimately stopped putting energy into DUHC, as their office became the national HQ for Move To Amend, which recently moved to Sacramento, CA. DUHC seems to have ceased to exist.
I took a number of years off to buy land and build a small passive solar home for myself (2005-2008) in nearby Manila, California, where I lived, until Spring 2011. During those years, I focused my time on building my bookstore business.
On April 2nd, 2011, I moved to Portland, Oregon in order to greatly expand my work in the movement to dismantle corporate constitutional "rights" to create the possibility of real democracy in the United States. When the Occupy Portland encampment opened downtown, I started to lead twice-weekly introductory workshops there. In January 2012, we launched Portland's first ever Community Rights organization, Community Rights PDX, which intends to run a Neighborhood Bill of Rights ballot initiative in Portland in 2017 or 2018.
Since moving to Portland, my work has really taken off. I now lead workshops and talks across across the country, and strangely enough, I have become the longest-running Community Rights workshop leader in the nation, as my mentors at POCLAD have since died. In early 2013, I set a goal of having five to ten fully up-and-running local Community Rights ordinance campaign groups in place by the end of 2014. I met that goal, and continue to push for more. In September 2013, many of us worked collaboratively to launch the Oregon Community Rights Network (OR-CRN), the seventh state CRN to be launched so far in the US. (See "Links" in the menu on the left to find out more about other groups doing similar work across the U.S.)
In 2013, I relaunched my Community Rights Update e-newsletter, offering news and analysis about our growing movement, which you can subscribe to on the left column. In August 2014, I launched a weekly radio commentary/podcast on Community vs Corporate Rights on KBOO Radio in Portland. More and more stations are picking it up each month. You can subscribe via ITunes, or visit the entire archive HERE.
And finally, I am in the process of writing my first book - a lay person's guide to dismantling corporate rule in the U.S. Unlike any other book available today, it will be fun to read. It will be filled with exercises that you will be encouraged to do - not all alone, but with your friends, neighbors, co-workers, and family. It will be packed with stories and hopefully even color! Not like anything you will have ever read before! I hope to have it out by the end of 2017. Wish me luck!
Want more information about my workshops and talks? Want to check out my fast growing collection of essays, speeches, and interviews? Want to sign up for my Community Rights Update e-newsletters? All of this and more can be accomplished by clicking on the various buttons on the menu to the left.
Hoping you have a lovely day!
Paul Cienfuegos
---

For a one-time donation click here:

---
To support Paul with monthly donation, select and click here: